NAVIO Robotics Assisted Partial Knee Replacement
The NAVIO system is a robotics-assisted tool used by surgeons to perform accurate and precise partial knee replacement. Partial knee replacement is a potential alternative to total knee replacement for some patients suffering from early to mid-stage osteoarthritis. Candidates for partial knee replacement have osteoarthritis generally limited to one compartment of the knee, making up roughly 35%+ of people dealing with knee pain1,2. In partial knee replacement, the supporting ligaments vital to knee stability are spared and the damaged portion of the knee is replaced with an implant, leaving healthy cartilage and bone intact.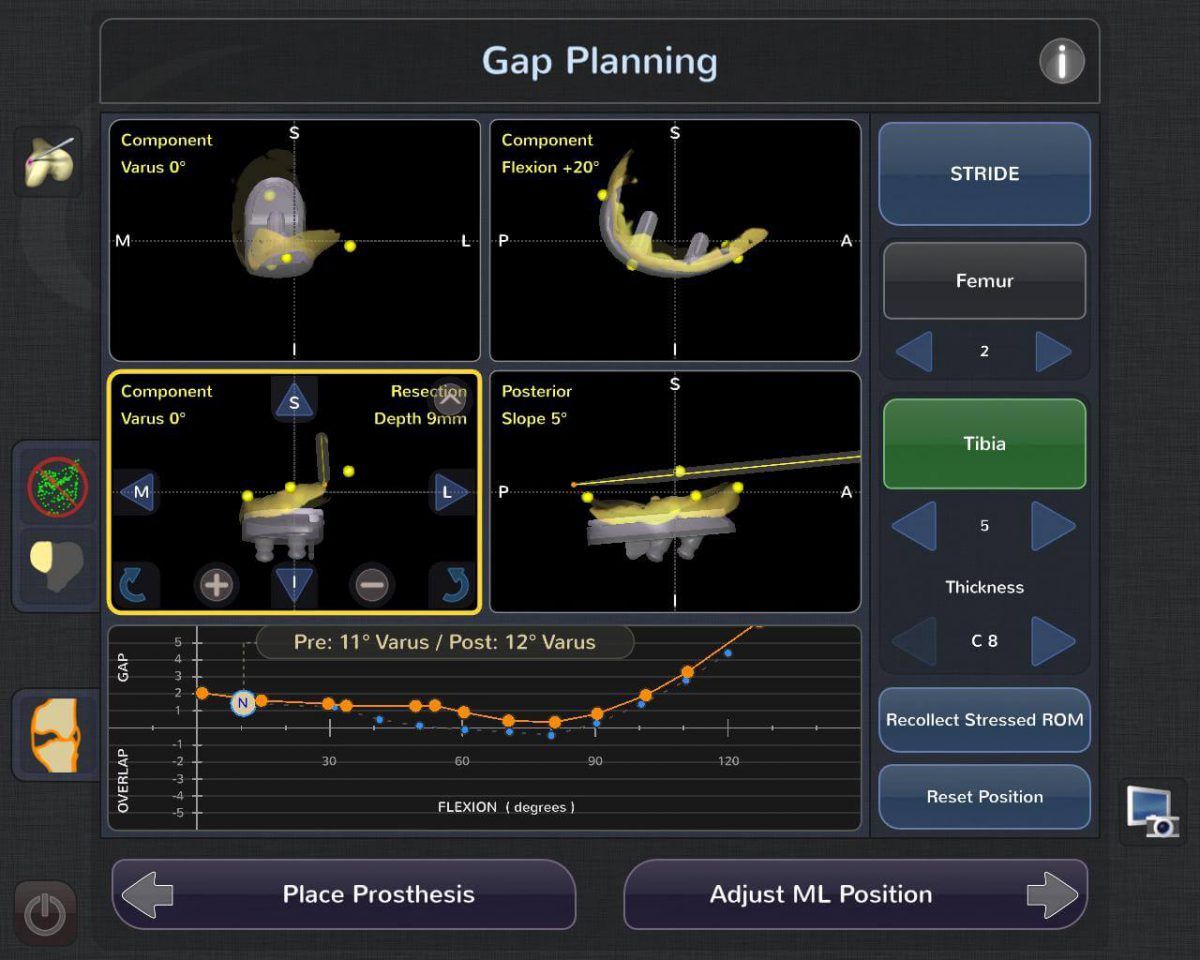 The use of robotic assistance in partial knee replacement is designed to optimize the accuracy of bone preparation, implant positioning, and soft tissue balancing3, where implant alignment is a crucial factor in determining how long the implant will last4,5. In the U.S., where only 8% of knee replacement procedures are partial knee replacements6, the NAVIO system provides a platform for surgeons to perform a technically challenging procedure that, compared to total knee replacement, offers:
Less pain7
Quicker rehabilitation and recovery7
Lower risk of complications8
Shorter hospital stay7
Smaller incisions9
A more normal feeling knee7
The NAVIO system provides:
Consistent results10
Accurately placed implants10
Customized implant planning
CT-free technology

1 CT-scan is equivalent to radiation exposure seen in 48 chest radiographs11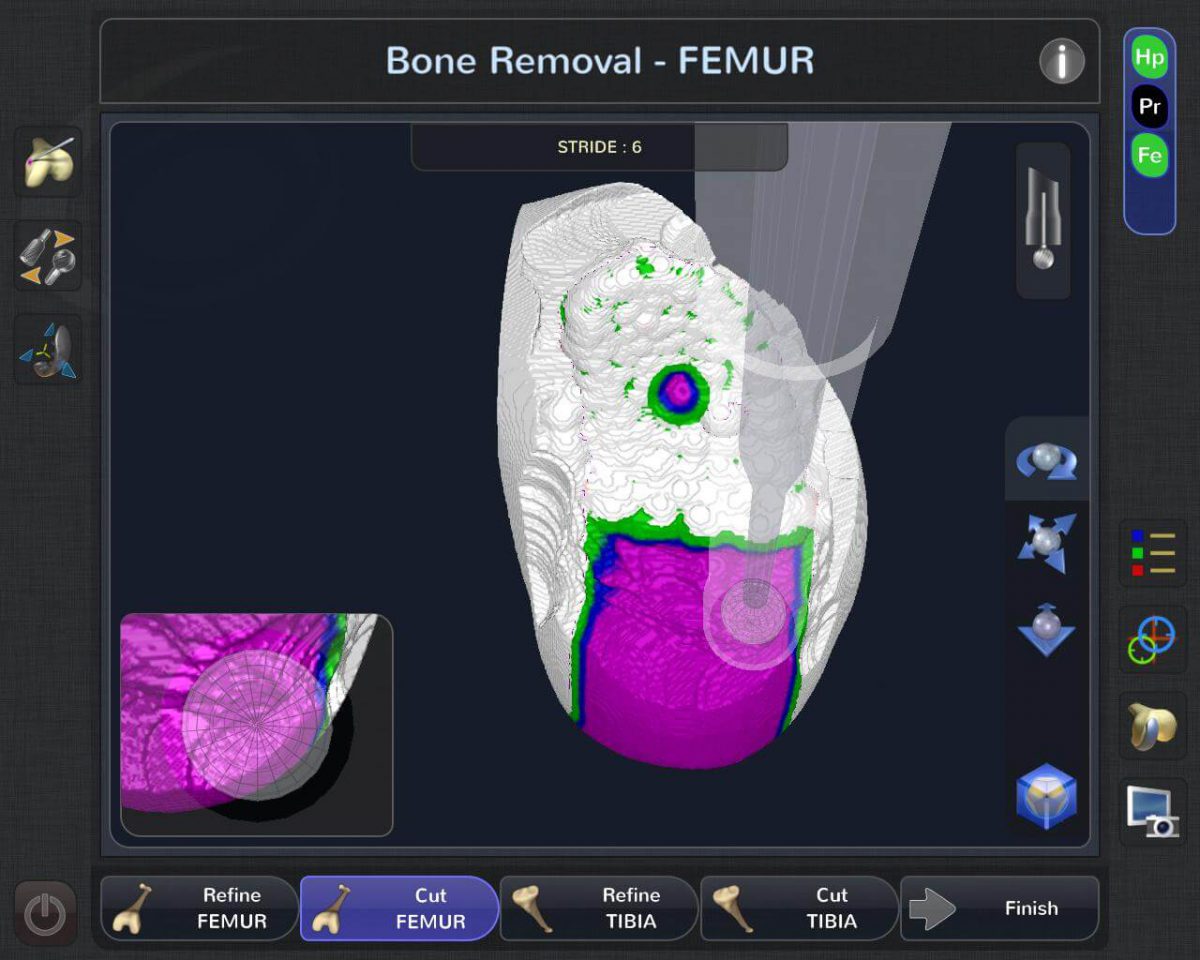 Partial Knee Replacement with Traditional Techniques
Using traditional surgical methods, cutting blocks or guides are placed on the thigh bone (femur) and shin bone (tibia) to help direct a surgical saw in removing the diseased bone and cartilage. Historically, this method has been considered technically challenging due to the difficulty in accurately placing these blocks. Recently, robotic assistance has been introduced to assist surgeons with accurate implant placement and positioning.
Partial Knee Replacement with the NAVIO system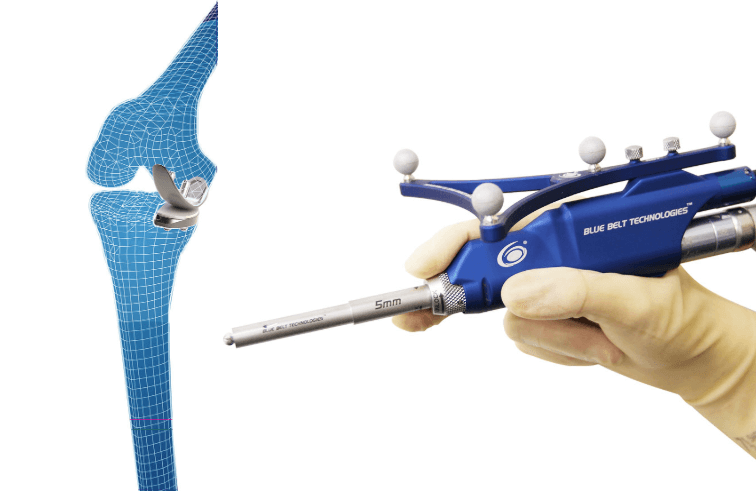 Through an advanced computer program, the NAVIO system collects precise information about your knee for the surgeon to use and create a patient-specific surgical plan. Once the plan is determined, the surgeon uses a robotics-assisted surgical tool (the NAVIO handpiece) to accurately prepare the bone surface for implant placement. There is no special pre-operative preparation or post-operative recovery protocol with a NAVIO robotics-assisted procedure. The NAVIO system does not perform the procedure, rather it assists the surgeon in partial knee replacement by providing accuracy and precision.
Individual results may vary. There are risks associated with any surgical procedure including NAVIO-enabled Partial Knee Replacement. NAVIO is not for everyone. Children, pregnant women, patients who have mental or neuromuscular disorders that do not allow control of the knee joint, and morbidly obese patients should not undergo a NAVIO procedure. This information is for informational and educational purposes and is not meant as medical advice. Every patient's case is unique and each patient should follow his or her doctor's specific instructions. Consult your physician for details to determine if NAVIO is right for you.
Willis-owen, Charles, et al, Unicondylar knee arthroplasty in the UK National Health Service: An analysis of candidacy, outcome and cost
efficacy, The Knee 16, 473–478, http://www.academia.edu/22765713, January 3, 2009
Liddle, A.D., Pandit, H., Et al, Optimal Usage of Unicompartmental Knee Arthroplasty, The Bone & Joint Journal,
http://www.bjj.boneandjoint.org.uk/content/97-B/11/1506, November 3, 2015
Lonner, Jess, Moretti, Vince, "The Evolution of Image-Free Robotic Assistance in Unicompartmental Knee Arthroplasty." The American Journal of
Orthopedics, May/June 2016, 249–254. Accessed June 7, 2016
Collier, Matthew, et al., "Patient, Implant, and Alignment Factors Associated With Revision of Medial Compartment Unicondylar Arthroplasty.",
Jour of Arthro, Vol 21 No 6, Suppl. 2, 2006.
Hernigou, Ph, Deschamps, G., "Alignment Influences Wear in the Knee after Medial Unicompartmental Arthroplasty.", Clin Orthop Relat Res.,
Volume 423, June 2004, pp 161–165
Millennium Research Group. US Markets for Large-Joint Reconstructive Implants 2012. March 2012
Hall et al., "Unicompartmental Knee Arthroplasty (Alias Uni-Knee): An Overview with Nursing Implications," Orthopaedic Nursing, 2004; 23(3):
163–171.
Brown, NM, et al., "Total Knee Arthroplasty Has Higher Postoperative Morbidity than Unicompartmental Knee Arthroplasty: A Multicenter
Analysis," The Journal of Arthroplasty, 2012.
Repicci, JA, et al., "Minimally invasive surgical technique for unicondylar knee arthroplasty," J South Orthopedic Association, 1999 Spring; 8(1):
20–7.
Lonner J., Smith J., et al., High Degree of Accuracy of a Novel Image-free Handheld Robot for Unicondylar Knee Arthroplasty in a Cadaveric
Study. Clin Orthop Relat Res 2014 Jul 8. Epub 2014 Jul 8.
Ponzio DY, Lonner JH, Preoperative Mapping in Unicompartmental Knee Arthroplasty Using Computed Tomography Scans Is Associated with Radiation Exposure a…, J Arthroplasty (2014)
Click here to see our videos